During the Cold War, the Yugoslavian People Navy grew in size and power with extremely interesting shipbuilding programs. Due the neutral nature of the post-WW2 established communist state, the Yugoslavian Navy could benefit the acquirement of Western-built vessels and obtaining license rights. The Yugoslavian Navy carried on a local program to build coastal submarines of national design, in addition to patrol boats, minesweepers and motor torpedo boats.
Toward the end of the Cold War, the Yugoslavian Navy benefitted the increased relationships with Soviet Union to acquire new missile boats and frigates maintaining by 1990 standards a locally powerful fleet.
The Yugoslavian People Navy apparently saw no incident of collision, ramming, seizures during the Cold War (against NATO, Soviet or Albanian opponents),
but lack of English sources make this research difficult outside Croatia and Serbia.
The actions of the Yugoslavian People Navy during the Break-up of Yugoslavia however resulted into
one of the most failed naval campaign ever done by a communist Navy
.
Despite years of originality and inventive, the Navy (like the whole Yugoslavian People Army) was heavily unprepared to face the bloody civil war. The initial shock of the war, followed by progressive dismantling of the political communist institutions, matched with the rise of regional interests contrasting the unity of the nation. Despite enjoying absolute naval superiority, the Navy could not impose an effective blockade on Dubrovnik and while few targets sunk, it did not changed the result of the siege. When the Navy attempted to engage in close range the enemy during the Battle of Dalmatian channels, Croats skillfully attacked the Yugoslavian ships from coast and repelled the operation.
NOTE: Many events are still unclear and poorly described in English-internet media (including lack of certain date for some clashes or identity of Yugoslavian ships involved).
NOTE on Naming convention:
many communist navies avoided to use a naval prefix
(like the American "USS" or the British "HMS") and some western authors wrongly assign false naval prefix out of habits.
The Yugoslavian Navy was a peculiar exception:
ships received both a name (with exception for landing crafts and some auxiliary vessels) , while the number and letter of class designation applied as "naval prefix", thus for example the frigate "Split" (number "31") was fully named "VPBR-31 Split".
------------------
There are report on unclear date during the fall of 1991 about Croat motor torpedo boat Vukovar (ex-Yugoslavian TČ-223 Partizan-III, seized in harbor) attempting a torpedo attack against Yugoslavian frigate VPBR-31 Split, with no success. According some accounts, Vukovar accomplished two separate attacks launching 8 torpedoes.
Ship in 2008. She was scrapped in 2013. The Soviet-built ship was the Yugoslavian flagship during the war and the most active frigate.
Photo of the motor torpedo boat (License-built variant of Soviet project206), it is unclear if the attack was real or it is rather propaganda press news.
11 September 1991
Croat barge
Klimno
(125tons) destroyed at Novigrad by missile (never recovered and scrapped in 1997). Unclear origins, but possibly a ground anti-tank missile. Ship was previously a military barge (PDS-104), later turned in civilian service.
Unclear day of September 1991
Croatian Hydrofoil ferries
Krila Istre
(130 GRT) and
Krila Dalmacije
(130 GRT) heavily damaged in Split on unclear day. Eventually scrapped.
According one Croat source it was hit by Yugoslavian Navy gunfire, possibly to avoid use by Croatian forces.
These beautiful hydrofoil boats for turistic purpose, technically "hydrogliser", built in Soviet Union and herald of brief Yugoslavian era of socialist prosperity and modernity. A future robbed by petty nationalist interests that broke the Federal socialist republic.
14 September 1991
Croat ferry
Pelješčanka
damaged for unclear reasons. Allegedly, she engaged Yugoslavian naval forces alongside ferries Birina and Kastor into the Neretva channel, but seems likely damage from ground forces shooting. Ships engaged in supporting Croat forces during seizures of military material in barracks and ferrying it.
18 September 1991
Croat minesweeper
Vukov Klanac
(ex-Yugoslavian M-151 Vukov Klanac, seized in harbor) sunk by Yugoslavian ground artillery fire.
1 October 1991
Yugoslavian patrol boats PČ-178 Kosmaj and PČ-179 Zelengora (both Mirna-class) attacked the Croat ferry Perast.
Kosmaj alone committed the gunfire attack (20mm), near Mišnjak islet, until forcing the
Perast
(335 GRT) to sail in Slano harbor where she effectively trapped (ship later shelled multiple times when the Yugoslavian Army attacked the city, and further hit by T-55 tank, artillery and mortar fire on 11 October, for targeting practice. Wreck scuttled only in 1997).
On that same day, patrol ship PČ-135 Rudnik (Kalnik class) seized on sea the fishing boat
Tajfun
, with help by two Galeb planes: ship tied behind Perast (her ultimate fate is unknown), later on the same day, Rudnik also seized the fishing boats
Kalada
and
Faraon
, forcing both to sail in harbor.
Photo of PČ-134 Romaniya (sister ship of Rudnik). Kalnik class was a national design.
5 October 1991
First (successful) Croat blockade-running operations when three different speedboats loaded with cargo avoided the Yugoslavian patrol boats PČ-178 Kosmaj and PČ-174 Ucka despite their fire. The Croat armed blockade-runner Sveti Vlaho recovered the cargo in pre-designed location.
6 October 1991
Yugoslavian missile boat RTOP-404 Hasan Zahirovic-Laca suffered an attack by ground 40mm artillery with 3 hits but no real damage because the enemy did not possessed armor-piercing ammunition.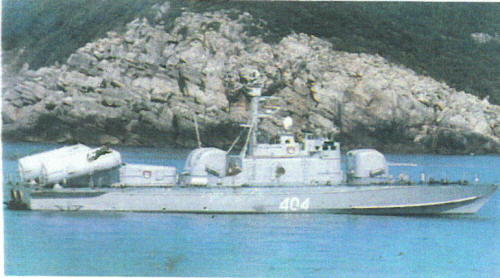 Rade Koncar class, a peculiar Yugoslavian design with Swedish guns and Soviet missiles.
18 October 1991
Yugoslavian Navy accomplished an amphibious landing operation close Dubrovnik, capturing Cavtat.
31 October 1991
The "Liberty Convoy" composed of 29 vessels, including the ship Slavija (3983 GRT) reached Dubrovnik carrying aids. The convoy carried also observers, protesters and political figures. Yugoslavian frigate VPBR-31 Split at first stopped the convoy before allowing the sailing. On the return, Slavija carried 2000 refugees (again ship stopped and inspected by the Navy).
8 November 1991
The single riverine action of the conflict.
Riverine minesweeper
RML-308
was ambushed by ground forces with anti-tank rockets while trying to intercept the Czechoslovakian towboat
Saris
, intending smuggle arms to Croatia.
Two Yugoslavian sailors died and commander wounded by sniper fire, yet he managed to get the boat stranded to save the ship from sinking. Saris suffered also 20mm gunfire from the minesweeper with damages on wheelhouse and a fire on fuel tanks.
A minesweeper of the RML-301 class.
10 November 1991
Yugoslavian minesweeper M-141 Mlet and patrol boat PČ-171 Biokovo attacked by anti-tank Malyutka rockets from ground:
PČ-171 Biokovo
hit and damaged. While some sources reported the attack was carried by armed fishing boats, Croatian forces actually launched rockets from shore after they disembarked on Škarda Island using speedboats Maša and Nirvana.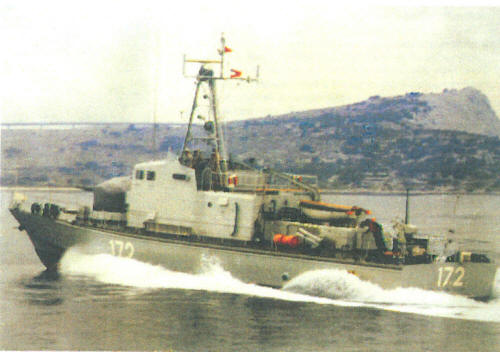 Photo of sister-ship patrol boat PČ-172 Pohorje
9-12 November 1991
Yugoslavian warships, collaborating with ground artillery, shelled the Dubrovnik harbor sinking different vessels including the ferry
Adriatic
(931 GRT) and the American-owned sailing ship
Pelagic
both reported as sunk by gunfire. Other ships attacked with anti-tank rockets from shore. Also passenger ship
Argolys
(234 GRT) sunk by hostile fire, as well as the old sailing ship
Roditelj
(later recovered) and other unidentified
fishing boats
.
11 November 1991
Maltese small transport
Euro River
(386 GRT) operated by Croat crew and heading to Dubrovnik, sunk by gunfire from Yugoslavian patrol boat near Solta Island. Crew of 6 saved. Interestingly the ship was the former French Navy auxiliary minesweeper Alma-II built in 1936 and served with the Kriegsmarine as patrol boat during WW2 (first as V-1605, then V-1914 and later Vs-514).
14-16 November 1991
Battle of Dalmatian channels.
The Yugoslav Navy organized an operation using three tactical groups: "Kastela", "Vis" and "Ploce" with multiple units of different classes to enforce a naval blockade.
Croats counter-attacked with organized ground defense (without using own vessels).
"Kastala" group: frigate VPBR-31 Split (flagship), missile boats RTOP-401 Rade Koncar, RTOP-403 Ramiz Sudiku, RČ-306 Nikola Martinovic, motor torpedo boats TČ-220 Crvena zvezda, TČ-224 Pionir-II, patrol boat PČ-176 Mukos.
"Vis" group: frigate Pula, 3 motor torpedo boats and 2 patrol boats (other sources include the missile boats RTOP-405 Jordan Nikolov and RTOP-406 Ante Banina).
"Ploce" group: minesweepers M-144 Iz, M-143 Olib and Blitvenica.
During the first day of battle, Yugoslavian patrol ship
PČ-176 Mukos
(from group "Kastala") hit on bow by a torpedo launched by Croatian naval commandos from shore. Motor torpedo boat TČ-224 Pionir-II rescued the survived crew (could not recover three bodies) and left the damaged vessel adrift while other ships from "Kastala" opened fire against Croatian artillery positions without enemy reaction.
Mukos did not sunk, and Croats towed her with fishing boats eventually repairing her and renaming her Solta.
The following day, group "Kastala" shelled enemy position at Solta and Brac Island, directed by frigate VPBR-31 Split and received enemy artillery fire. The harbor of Split was also bombed by her namesake frigate, the ferries
Bartol Kasic
and
Vladimir Nazor
(2 Croat sailors killed) suffering damage.
Croat sources claimed to have damaged frigate VPBR-31 Split, but she suffered no damage at all.
Tactical group "Vis" led by frigate VPBR-32 Pula, opened fire on Solta Island, to drive the enemy from focusing on "Kastala" group. Frigate Pula also launched anti-submarine rockets from the system RBU-6000 against the targets. Shortly before the engagement, Pula opened fire on a European Union neutral hydrofoil vessel before the vessel properly identified.
During the bombing, frigate
VPBR-32 Pula
received minor damage due 40mm hit in the chimney.
Yugoslavian Air Force attempted to support the Navy with a raid of six J-21 Jastrebs bombers, but Croatian anti-air defense shot down two of them (pilots rescued on sea by helicopter).
The third and last day of battle, Croats focused their fire on group "Ploce": minesweepers
M-143 Iz
and
M-144 Olib
suffered 76mm artillery hits (Iz grounded and later captured by enemy, Olib sunk), "Kastala" group sailed to rescue and frigate Split opened fire, while also the minesweeper
M-153 Blitvenica
suffered damage but did not sunk.
Photo of M-142 Brsech, sister-ship of Iz and Olib. British "Ham" class built under license in Yugoslavia.
Photo of M-153 Blitvenica: she was larger, 3 members of the class built in France (including "Blitvenica"), a fourth built in Yugoslavia
The operation was a Yugoslavian failure, despite absolute naval superiority the coastal Croat defense were stronger than expected. Twenty-two Yugoslavian sailors died. Yugoslavian gunfire resulted only in little damages to the well disclosed and organized Croat artillery, causing only two killed, additionally to the two victims on ferry Vladimir Nazor.
Unclear date November/December 1991
Croat armed blockade-runner
Sveti Vlaho
chased by Yugoslav patrol boat and driven aground 2 miles north Dubrovnik. Croats quickly recovered her.
Unclear date Late 1991
Yugoslavian auxiliary ship
Ugor
damaged by anti-tank rocket fired from shore, suffering no casualties.
Sister ship Lubin. Auxiliary ammunition transports, to supply other vessels.
Unclear date 1991
Yugoslavian minesweeper
M-161 Gradats
damaged by mine
Unclear date 1991
One Yugoslavian
supply-boat
sunk by mine.
6 December 1991
Croat armed blockade-runner
Sveti Vlaho
sunk by Yugoslav anti-tank missile fired from shore.
Raised in 2001 and preserved as monument.
Ship preserved. She was a former italian smuggling boat.
28 January 1992
Croat diving support boat
BRM-42
sunk by mine in front of Lora harbor. 2 sailors killed. Ship was formerly a Yugoslavian vessel (with same name).
27 April 1992
Official dissolution of Socialist Federal Republic of Yugoslavia.
---------------------------------------------------------------------------------------------------------------------------------------------------------------------
DISCLAIMER: Even if this work is fruit of a passionate effort, it was produced out of amateur hobby interest and may include sporadic errors (especially for some events with unclear date). Partial or full reproduction/translation, with credits to this site, is allowed for no-profit interest in other forum, sites etc.

However, it is suggested to pay attention to updates or corrections that may occur even years after the original publication
Any kind of suggestion, correction, question is welcome through private message: you are free to contact the author on Soviet-Empire.com forum even after years since the last update.