Shigalyov wrote:

Did all Soviet School Uniforms (for boys) look like this? Did they vary from school to school? It's actually quite nice.
Rabble Rouser, you should post us a photo when it arrives.
According to the seller, all schoolchildren in the Soviet Union wore the same style of uniform. Given that this uniform is big enough for an adult, I would assume that it would have been for the upper classes (8-10). In class 4, one was old enough to be accepted into the Young Pioneers and be given the classic red pioneer ties. In class 8, one could enter the Komsomol (VLKSM). Perhaps one of the Russian forum members could verify all this.
Apparently, the styles changed significantly from pre-Stalin to the Stalin era to post-Stalin. The later uniforms were more modern in style, whereas the older ones looked more similar to military uniforms. The uniform I have purchased is in the style used in the 1980s.
Here is a picture of some younger schoolboys dated 1987:
Here's another picture:
I would guess that this is an example of an older style of uniform: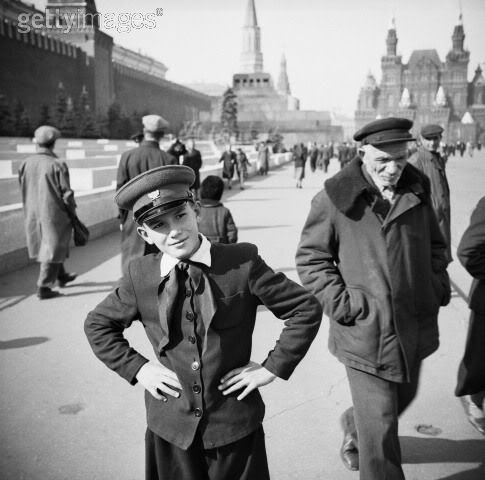 If you want to know more, here is a webpage about school uniforms in the USSR:
http://histclo.com/schun/country/rus/rsuc-sov.html