Log-in to remove these advertisements.
22 Sep 2005, 13:01
Tjesubaraska!


Something like that, i think (the teddy bear movie)
Soviet cogitations: 86
Defected to the U.S.S.R.: 29 May 2005, 12:37
Pioneer

22 Sep 2005, 18:04
Quote:

I'd love to, but I'm not sure how to capture a screenshot of a video. They usually get scrambled or show up as blue screens...
If someone knows how to get around this, please clue me in.
Here's a an image: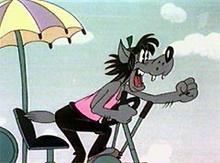 You know, I couldn't get enough of those cartoons when I was a kid.
Last edited by
Red Future
on 23 Sep 2005, 14:24, edited 1 time in total.
22 Sep 2005, 20:40
Quote:

Four tankman and a dog, 17 moments of spring, were soviet serials... Most Soviet TV was about detectives or war.
I was watching a 60's movie about hard work in construction. Outside of work everyone wore shirts, suits, formal trousers, shoes, and ties, except for the comical counter-productive alcoholic who wore a hat, shirt and coat... this is a typical character list for proletariat movies:
Union worker
1 or 2 lazy, yet non-parasital workers
Drunkard for comic relief
Union leader
Typical plot:
Two lazy workers at a quarry/mechanic factory/construction site that are beginning to mix with the alkash are being re-educated by a union-worker woman that they like. After a failure at first, she talks to them seriously, and they agree to follow her terms. She succeeds at making them productive members of society, and gets an award, announced over the local radio. They laugh, and the drunkard says something stupid yet funny. One of the workers falls in love with her in the party club, but she leaves to another location. Footage of Soviet achievement is shown, as the people on the bus she is riding on sing socialist songs. Such movies are shown at least on two Russian channels at a time on Sunday both in color and black and white.
Also watch "Kin-Dza-Dza". It is an interesting movie about laissez-faire economics.

Soviet cogitations: 2775
Defected to the U.S.S.R.: 27 Sep 2004, 23:23
Party Bureaucrat

24 Sep 2005, 22:55
Cartoons:
Cheburachka!

Whoppee for Comrade Sergei.
01 Dec 2005, 05:23
They also had game shows like Что? Где? Когда? (what? where? when?) and Поле чудес (field of wonders) which was like wheel of fortune, but not as bland as some western ones i've seen, due to comedian host.
Here is lots of music and images from cheburashka
http://chebur.hobby.ru/first_1.html
4 tankists and dog was polish movie that everyone loved.
Soviet TV was pretty good, the movies being the best part, especially ones by Ryazanov
04 Dec 2007, 10:18
hey found some cool images of soviet model television sets:
http://englishrussia.com/?p=1400
and the obvious description of programing on wikipedia:
http://en.wikipedia.org/wiki/Soviet_television
and a polish model:
http://en.wikipedia.org/wiki/Belweder_(TV_set)
funny how the article states that
Quote:

A Belweder cost 7000 złoty at the time when the average monthly salary was between one and two thousand, yet, like many consumption goods in the communist economies, it proved very sought after and hard to buy. This seems strange to Westerners used to free market economies; the explanation is that although the TV set cost a few monthly salaries, communist economies produced so little in the way of consumer goods that people normally had vast amounts of money saved, simply because there was nothing else to buy.
is this true? Wow people with savings rather than credit card debt! [/url]
14 Jan 2008, 13:56
Sounds really interesting!

Do you know where I can get these on DVD (for example "17 moments of spring")?
Soviet cogitations: 6888
Defected to the U.S.S.R.: 30 Nov 2007, 08:37
Unperson

15 Jan 2008, 02:46
Internet. Or video stores in Russia. I have 17 moments of spring on VHS.
Soviet cogitations: 542
Defected to the U.S.S.R.: 31 Aug 2009, 07:21
Komsomol

02 Sep 2009, 09:33
Apparently, "The Rifleman" was Leonid Brezhnev's favorite American Television Show!
Text Below Retrieved From
:
http://en.wikipedia.org/wiki/Chuck_Connors#Personal_life_and_death
Connors was introduced to Secretary General Leonid Brezhnev of the Soviet Union at a party given by Nixon at the Western White House in San Clemente, California, in June, 1973. Upon boarding his airplane bound for Moscow, Brezhnev noticed Connors in the crowd and went back to him to shake hands, and jokingly jumped up into Connor's towering hug. The Rifleman was one of the few American shows allowed on Russian television at that time; that was because it was Brezhnev's favorite. Connors and Brezhnev got along so well that Connors traveled to the Soviet Union in December 1973. In 1982, Connors expressed an interest in traveling to the Soviet Union for Brezhnev's funeral, but the U.S. government would not allow him to be part of the official delegation.
More:
http://en.wikipedia.org/wiki/Chuck_Connors#Personal_life_and_death
09 Nov 2009, 16:54
Quote:

What tv-shows do you expect
Within the realm of possibility, I expect TV shows more oriented to culturally benefit the people than the tons of stupid programs, commercials and extreme low quality formats daily vomitated by European or American television, true arms of intellectual mass destruction.
As to programs broadcasted in Eastern European socialist country, my 7 years old son and I love Krtecek, the Czecoslovakian little mole, ex.:
http://dailymotion.virgilio.it/video/x4 ... shortfilms
If you tremble at the slightest indignation done to a fellow human, then you are my comrade-in-arms.
Commander E. Guevara de la Serna
09 Nov 2009, 22:10
The current wikipedia article has a pretty good description of programming in the Soviet Union, and the comparison with PBS is great:
Quote:

Soviet TV programming was highly diverse and somewhat similar to that of American PBS. It included news programs, various educational programs, documentaries, occasional movies, and children's programs. Major sports events such as soccer and ice hockey matches were often broadcast live. Programming was almost entirely either domestic or made in Warsaw Pact countries. Some TV miniseries were locally produced for TV, but rarely exceeded 5-10 episodes in length. A notable exception is Seventeen Moments of Spring -- a twelve-episode series...

Until the late 1980s, Soviet TV programming did not include commercials of any kind.
"The thing about capitalism is that it sounds awful on paper and is horrendous in practice. Communism sounds wonderful on paper and when it was put into practice it was done pretty well for what they had to work with." -MiG
Soviet cogitations: 3116
Defected to the U.S.S.R.: 12 Jun 2006, 02:14
Ideology: Marxism-Leninism
Party Bureaucrat

09 Nov 2009, 23:14
Soviet78, do you know where I can get Seventeen moments of spring? I'd like to watch it, specially the black&white version
"Where Argentina goes, Latin America will go".
Leonid Brezhnev
Forum Rules
10 Nov 2009, 00:22
Sure, I'll pm you.
"The thing about capitalism is that it sounds awful on paper and is horrendous in practice. Communism sounds wonderful on paper and when it was put into practice it was done pretty well for what they had to work with." -MiG
Log-in to submit your comments and remove Infolinks advertisements.
Alternative Display:
Mobile view