During the Cold War, Portugal was under a direct fascist dictatorship that was established previous WW2 and was actively backed by the USA and the Western World.
While being a small nation, the Portuguese government engaged in a despaired series of colonial campaigns to retain its colonial possession (while most of the European nations, including France or United Kingdom eventually abandoned anachronistic concept and found more subtle way of influence). The Portuguese economy havocked while conscripted soldiers died in the three larger conflict: Angola, Mozambique and Guinea-Bissau.
The Soviet Union and the communist block fully backed the insurgencies of these three countries, of the three the Guinea-Bissau insurgency of PAIGC was the most successful, more well-directed and more capable on battlefield.
It was also the only communist insurgency of Cold War making a direct use of
conventional naval warfare
, however these actions proved a failure and effectively the strong points of PAIGC was the ground control and a growing anti-aircraft capability. The action of the notorious and fearsome Portuguese secret service (PIDE) caused also heavy losses.
The conflict come to an end with the Carnation Revolution: left-wing inspired soldiers in Portugal mutinied with popular support and caused the collapse of the dictatorship.
Guinea-Bissau become a communist nation until the end of Soviet Union, eventually spiraling (like the nearby Guinea, that backed PAIGC during the war) into a series of coup d'état, civil wars and downfall of economy and welfare for the people.
Ironically, Portugal (while remaining a NATO country) it is currently a nominal state "aiming to Socialism" out of legacy of the Carnation Revolution.
Sources
include the
magnificent
work done by (c)Alexander Rosin on the russian blog
http://alerozin.narod.ru
------------------------
------------------------
March 1963
On unclear day, Portuguese motorboats
Mirandela
and
Arouca
seized in the port of Cafine. Then used by PAIGC as supply-vessel from Guinea.
May 1963
On unclear day, Portuguese motorboat
Bandim
and
Bissau
seized. Then used by PAIGC as supply-vessel from Guinea.
It is unclear if these seizures occurred in harbor (by ground troops) on in other way.
8 July 1963
Portuguese
motorboat
sunk in action on the confluence of rivers Cumbija and Cobade. Likely due ground fire.
19 November 1963
Portuguese ferry
Bor
attacked on Cobade River: it suffered a casualty and loss of cargo (supplies).
23 March 1964
Portuguese
boat
sunk in Combidjan River, near Bedanda. Likely due ground fire.
Portuguese
boat
sunk on the Rio Grande de Buba. Likely due ground fire.
July 1964
After a Portuguese raid with four boats that landed troops on Quitafine (at mouth of Cacine river),
one boat
was sunk when PAIGC returned fire from coast.
4 February 1965
Portuguese landing craft
LDM-302
received light fire from shore, suffering some damages.
4 February 1965
Portuguese landing craft
LDM-302
received light fire from shore, suffering 10 wounded.
19 December 1967
Portuguese landing craft
LDM-302
sunk after coming under fire from anti-tank RPG rockets and machine-guns from shore. Raised and recovered. 2 sailors died.
10 June 1968
Portuguese landing craft
LDM-302
heavily damaged during an identical attack from shore: one mortar hit caused a fire burning the vessel. 1 sailor killed, 1 wounded.
18 February 1969
Portuguese landing craft
LDM-302
damaged (launch partially destroyed, a fire caused by anti-tank rocket) with 1 killed and 1 wounded.
The ship class could carry up 60 troops or 30.8t of cargo. This small landing boat was extensively used and suffered multiple attacks and damages, however it is wrong (how reported by some sources) that she sunk 3 times to be recovered each time. LDM-302 sunk indeed just one time, to be raised and repaired, while suffered damages in other attacks.
April 1969
PAIGC transport boat
Patrice Lumumba
sunk by Portoguese (unclear action).
27 May 1969
While sailing into a convoy, the Portuguese sailing boat
Guadiana
(cargo of gasoline and detonators) hit a PAIGC-laid mine and sunk. 5 killed and 8 wounded.
Mine likely left floating from ground or by some small boat.
PAIGC sources claim in the subsequent years a high toll of Portuguese boats sunk by mines, but none else currently confirmed.
(unclear date) 1969
Portuguese rubber-boats n°1 and n°2 (from patrol boat Lira) ambushed with rocket and machine-guns fire the PAIGC motorboat
Bandim
: ship was grounded with 6 killed and lost (later set afire and destroyed by the Portuguese).
On unclear day of 1969, the Soviet Union provided the PAIGC with four project 183 motor torpedo boats.
It was the only occasion for a guerrilla movement to receive fully standard warships in the Cold War!
While the boats intended to harass Portuguese shipping, no known attack recorded before the loss of boats in 1970.
22 November 1970
Raid in Conakry
Portuguese Navy directed a raid in Guinea, called the Operação Mar Verde (Green Sea Operation).
A task force was composed by patrol boats Orion, Cassiopea, Dragao, Hidra and landing ships Bombarda and Montante.
Main target of the assault was the assassination of the Guinea's president and the PAIGC's leader, however both men were not found. The attempt to install a minor anti-government opposition party (FNLG) failed to lack of local support and Portuguese forces contended in liberating 26 POWs. The raid inflicted heavy casualties to the PAIGC/Guinean Naval forces, officially claiming "four or five" vessels sunk.
Official Soviet sources actually report much higher losses:
four motor torpedo boats
of project 183 class owned by PAIGC and
three missile boats
of project183R of the Guinean Navy sunk (with casualties).
Boats suffered a swift ground surprise attack and crew had no time to react. Portuguese forces lost only 3 killed and 3 wounded. However, the battle did not ended with the Portuguese retreat because 150 Guinean militants of the FLNG made a stand and were ultimately defeated with 50 killed and 100 prisoners. Overall the Guinean and PAIGC forces lost between 52 (likely the confirmed figure) and 500 (Portuguese claim), while Soviets at first estimated 200 overall casualties (killed and wounded).
Photo of the patrol ship Dragao
In November-December 1972 the Soviet Navy provided once more PAIGC with military ships: three patrol boats of project 199 class.
Often wrongly reported the Soviet Navy provided again the project183 or even project183R missile boats!
21 January 1973
PAIGC leader Amílcar Cabral was assassinated after an internal coup directed by the Navy commander.
Involvement of the Portuguese secret service (PIDE) strongly suspected even by some contemporary Portuguese sources, fomenting intertribal tensions.
The entire small PAIGC Navy mutinied and took part at the betrayal: the wife of Amílcar Cabral and other top PAIGC leaders (including Aristide Pereira) abducted.
The three project 199 patrol boats attempted to flee to Guinea-Bissau (with the clear intention to join the Portuguese and validating their true allegiance to the PIDE) however in Guinean water was stationed the Soviet Navy destroyer Byvalyy. Once realized the crisis, the Soviet commander communicated with Moscow asking instructions and permission to intervene: permission given but to restrain live fire.
Carrying aboard Guinean soldiers, the Soviet destroyer Byvalyy successfully intercepted and forced to surrender
two patrol boats
Project 199.
Effectively it was the first Soviet Navy action after the WW2 resulting in a Soviet ship scoring victories (seizures) in direct confrontation with hostile boats!
(However it would only be in 1990 in Eritrea that the Soviet Navy engaged in direct gunnery fight with enemy shortly before the eventual fall of Soviet Union).
Photo of one sister-ship of Byvalyy, reconverted (as the same Byvalyy) into the project56PLO anti-submarine version: the project56 was a workhorse of the Soviet Navy during Cold War and Byvalyy wasthe only destroyer-class of the Soviet Navy scoring effective military victories during a Cold War conflict.
The Guinean Navy dispatched its units to chase and intercept the last one Project 199
patrol boat
(ship separated from others due lost orientation and getting close to coast). On this same boat was saved the wife of Amílcar Cabral, Aristide Pereira and others (prisoners were subjected to torture and maltreatment). This seizure would be the
only success scored by the small Guinean Navy
: interestingly this third Project 199 boat was integrated in Guinea Navy rather than being passed to PAIGC (later Guinea-Bissau). It is currently unclear which Guinean ships were dispatched but were likely some or all the four Project 183 motor torpedo boats delivered by USSR in 1971-1972.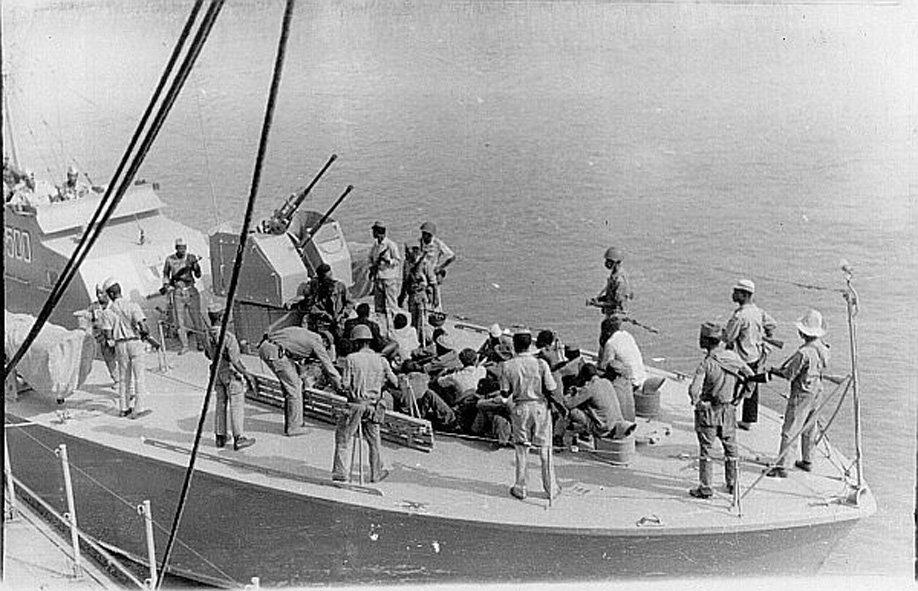 This interesting photo, from the site (c) marinavasca.eu, reportedly show a PAIGC boat: however Soviet data confirm the new group of units were the rarer and less known Project 199 (originally designed for the KGB Maritime Border Troops). The photo, showing armed men guarding what appears to be prisoners, likely show a Guinean vessel with onboard the captured crewmembers of the seized project199. Considering the serial number (n°500) visible, it is possible to evaluate this boat for scoring a full or shared success.