PACIFIC OCEAN
1945
Note: Great thanks to the author-researcher K. B. Strelbitskiy, main source of this article (К. Б. Стрельбицкий. Август 1945. Советско-японская воина на море - Цена Победы ) with multiple updates and corrections disclosed by the same author on tsushima.su (http://www.tsushima.su/forums//viewtopi ... d=1671&p=1 )

Much is left unknown and unclear about this brief but active naval front: future multiple updates could be disclosed.
9 August 1945
Japanese sources speak about a gunfire destroying the Japanese merchant Ibiza Go Maru (1398 GRT), but actually no Soviet warship or motor torpedo boat attack was carried that day, it's probably a mistake and ship was sunk by air attack.
10 August 1945
Japanese merchant
Riuko Maru n°2
(2230 GRT)(cargo of 2500 tons of fish) was seized close Kamchatka (near mouth of river Vorovskaya) by soviet patrol boats. A large number of fishing trawlers (59!) that previously had been allowed to fish in such waters, was also seized/captured but by infantry (there was a total amount of 405 POW).
3 Motor torpedo boats attack against Rajin (today Rason) claiming 3-4 victories: the wreck of Japanese merchant Ikutso Go Maru (1398 GRT)(cargo of 1500tons of broomcorn) was wrongly believed to be also torpedoed by motor torpedo boats). On the other hand it was merchant
Kari Go
(3111 GRT) torpedoed and sunk (Japanese wrongly believed sunk by aircraft). Soviet attacking units were TK-534 (G-5 class) and TK-562 and TK-573 (A-1 class).
Motor torpedo boats TK-566, TK-567, TK-570, TK-580 and TK-587 (all Vosper type) made an attack against Seisin (today Chonjin): 11 torpedoes launched and claimed up 6 targets hit. Actually, there was a single success: Japanese merchant
Taishun Maru
(2857 GRT) was torpedoed and sunk later while on towing. Japanese believed to have been a submarine attack.
On that same day two soviet motor torpedo boats (Vosper class) seized
a schooner
and took 3 POW. Schooner was sunk or abandoned on sea and lost.
11 August 1945
Largest Soviet motor torpedo boat attack against Rajin (today Rason).
At first, TK-549 and TK-550 attacked the harbor and launched four torpedoes: the Japanese merchants
Enpo Maru
(6873 GRT),
Edamitsu Maru
(6872 GRT) and
Tensho Maru
(3035 GRT) were hit. All the targets has been previously damaged by Soviet aircrafts but were still floating, some hours later other 6 motor torpedo boats attacked: TK-563 scored two further hits on Edamitsu Maru and Enpo Maru while TK-568 finished Tensho Maru.
Rare photo of the attack: ships are probably Edamitsu Maru (left) and Enpo Maru (right). The barrier protecting the ship is not a pier but probably an anti-submarine net.
Note: all the MTBs attacks by Soviets on the Pacific were done by lend-leased Vosper class boats (soviet classification "A-1").
12 August 1945
Japanese merchant
Hozugawa Maru
(875 GRT)(cargo of graphite), believed to be under repetitive attack by 3 enemy submarines and was grounded close Seisin to evade the supposed attack: actually there was a group of 4 Soviet motor torpedo boats but the Soviets did not noticed the merchant that still was lost as consequence.
The wreck was subjected to attack by TK-589 on 13 August (torpedo hit), and on 15 August (by two TK-567 and TK-587, missing her). The ships has also been previously damaged by air attack on 9 August.
On that same day, the Japanese merchant Tsushima Maru (3516 GRT) was often reported as victim of attack but she was actually missed by TK-597, torpedo hit the pier (ship was later scuttled to evade capture the next day). Once again Japanese believed a submarine attack.
16 August 1945
Soviet torpedo boat Metel sunk with 102mm gunfire a Japanese
motor schooner
, loaded with troops, close Seisin (today Chonjin). It's the only full destruction of enemy naval target recorded for a Soviet torpedo boat during the ww2 (even if Uragan-class was classified as "Guard Ships" Soviets). It's also the only full victory achieved by a major soviet warships (cruisers/destroyers/torpedo boats) in Far East.
(Other Japanese units were captured that day at Seisin, but were seized by naval infantry, not by specific soviet ships).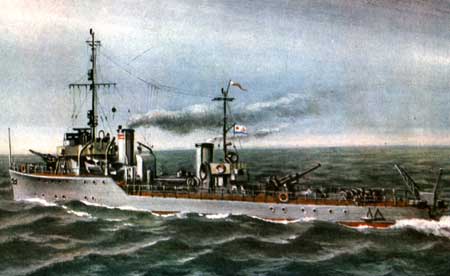 Painting of Metel, from shipandship.chat.ru
18 August 1945
During the landing of Shmshu, the soviet
self-propelled barge n°1
was hit and damaged by a Japanese floating battery. All 3 soviet crewmember wounded and 18 carried soldiers were killed. It was the only naval clash with a Soviet vessel suffering damage by enemy gunfire action in Pacific.
19 August 1945
Close Maoka (today Kholmsk at Shakalin), the Soviet patrol boat PK-31 (MO-4 class, manned by NKVD), destroyed with 45mm gunfire a Japanese
schooner
.
On the same day, in Maoka harbor, the soviet troop transport Izmail captured a
schooner
and
two barges
.
The soviet troop transport Vsevolod Sibircev captured
five small landing crafts
(17-meters Toku Daihatsu series)..
(Other units captured that day, but were seized by naval infantry).
Photo of Sibiricev
Photo of Izmail
Lacking large landing ships, the Soviet Navy used standard merchants for the operations.
20 August 1945
Soviet motor torpedo boat Metel recovered the abandoned Japanese tanker
Horai Maru n°14
(834 GRT)(no cargo). The ship has been previously damaged by Soviet aircraft and then grounded on 10 August in Panova Bay. Even if the ship has been abandoned and classified as lost, the recovery was part of the reason of the Guards award to the torpedo boat. According other source, the merchant seized was Matsuura Maru (3185 GRT) that was grounded on 30 July.
22 August 1945
Unidentified soviet motor torpedo boats captured
some schooners
close Genzan (today Wonsan).
Naval infantry seized other units.
23 August 1945
Soviet landing ship DS-2 (former American LCI class) captured
a barge
, during landing operations in Kurili islands.
DS-2 was a former American LCI class
24 August 1945
Soviet auxiliary minesweeper Tszcz-155 captured a
schooner
in Kurili islands.
Photo of the minesweeper.